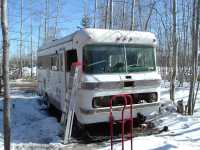 Site Menu
General
The Supervisor
My Little Project
Miscellaneous
| | |
| --- | --- |
| Site Updated: | Page Updated: Wed, Jan 03, 2007 |
The Supervisor
Every project needs a supervisor and Griff's Custom Classic Motorhome Projects are no different. Meet Verb, the supervisor, checking out the early progress on My Little Project. (Yes, she's named Verb ... that way, Verb is a noun.)
Being the supervisor type, she has to poke her nose into everything, wants to know what's going on all the time, and is constantly getting in the way.
Sometimes, though, you can catch the supervisor napping and can sneak away for a coffee break.
Oops, never mind. I guess I'd better get back to work...